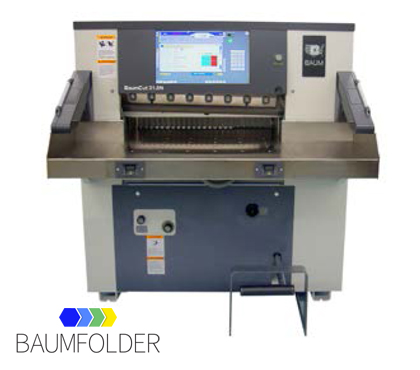 BaumCut 26.4P Paper Cutter
The BaumCut "P" Series programmable cutters are efficient, compact, and easy to operate, with minimal maintenance.
This machine is a heavy-duty, fully-hydraulic paper cutter featuring a large 18.5" touch screen color display with 1,998 programs. The proper sequence for positioning the material to be cut is displayed graphically on the large color display on the "P" series which minimizes the possibility of cutting errors considerably.
The BaumCut offers high-productivity precision cutting with maximum safety in mind. Infrared safety beams, two-hand timed cut release and covered rear table help ensure operator safety.
Features
- False clamp plate
- Eccentric knife leveling
- Non-corrosive stainless steel table
- No slot in table
- Powered backgauge with direct positioning
- Fully hydraulic knife and clamp
- Fraction input w/automatic decimal conversion
- Adjustable clamp pressure
- Lifetime cut counter
- Quiet operation, hydraulic pump runs only during cutting
- Adjustable knife cycle timing
- Infrared safety beams are standard
- Two-hand, timed cut release with non-repeat device
- Rear table fully covered
- Permanent check of knife position
- Machine self-diagnosis with error indication
- Cover over foot pedal

Specifications
Specifications
Maximum Cutting Width: 26.4" / Minimum Cut without false clamp plate: 0.59" / Minimum Cut with false clamp plate: 2.0" / Maximum Cut Depth: 26.4" / Clamp Opening without false clamp plate: 3.95" / Clamping Method: Hydraulic and Manual / Maximum Clamping Force: 3,300 lbs. / Backgauge Control: Power
Dimensions
TBA
Electrical
TBA