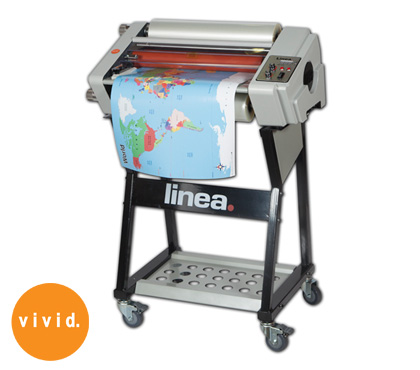 Vivid Linea DH-460 - Laminator
Two Heat Rollers, Standard Temperature Range of 32F to 284F. Material Widths up to 18.1".
The Linea DH-460 has been designed for jobs that just can't wait. As well as being able to cope with long, continuous runs, its highly versatile and ideal for laminating different size media such as long banners or odd shaped pieces.
The system has been carefully designed with well thought out features making it easy-to-use and highly efficient.
Shown on optional stand.
Video

Features
- Up to 4.59 feet per minute
- 1" core size
- Solidly built from all-metal components
- Large diameter rollers to withstand the rigors of continuous operation
- Single sided lamination
- Encapsulation
- Double sided lamination
- Optional stand available

Specifications
Specifications
Heat Roller(s): Two / Laminating Speed: up to 4.59 feet per minute / Max. Width: 18.1" / Warm Up Time: 10 minutes / Laminating Temperature Range: 32F to 284F / Film Core: 1"
Dimensions
Size: 30" W x 17" D x 12" H / Weight: 99 lbs.
Electrical
110 VAC 60 Hz