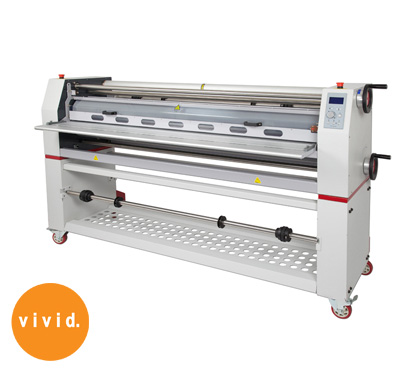 Vivid Easymount 1650 Double Hot - Laminator/Mounter
Two Heat Rollers, Standard Temperature Range of 32F to 266F. Material Widths up to 65".
The Easymount laminator is designed to perform and built to last.
The advanced features allow you to laminate and mount.
Designed in-house by Vivid, the Easymount gives your business extra capacity by allowing you to offer your customers a complete service that you previously had to outsource.
Video

Features
- 13ft a minute
- Variable speed control
- Foot pedal
- Reverse mode
- Multilingual control panel
- Up to 1" mounting thickness

Specifications
Specifications
Heat Roller(s): Two / Laminating Speed: up to 13 feet per minute / Max. Width: 65" / Mounting Thickness: up to 1" / Roller Diameter: 5" / Warm-up Time: 15 minutes / Hot Roller Heater System: Internal Infrared / Laminating Temperature Range: 32F to 266F / Control Panel: Digital / Pressure Adjustment: Manual-Gauge / Film Core: 3"
Dimensions
Size: 85" W x 31" D x 49" H / Weight: 805 lbs.
Electrical
220-240 VAC 1-phase