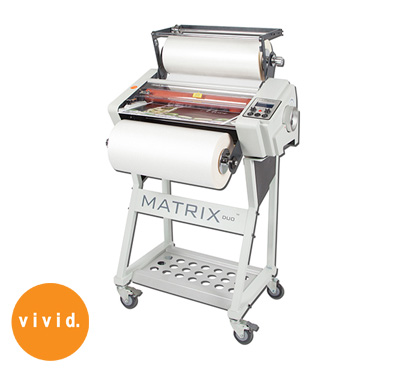 Vivid Matrix Duo MD-460 - Laminator
Two Heat Rollers, Standard Temperature Range of 32F to 284F. Material Widths up to 18.1".
The Matrix Duo is a multi-purpose single/double sided roll fed system ideal for both laminating and encapsulating.
The Matrix Duo gives the flexibility of single side lamination, encapsulation and even double side lamination, providing an affordable and effective solution, compared to outsourcing.
Video

Features
- Up to 5 feet per minute
- 3" & 1" core sizes
- adjustable anti-curl bar
- single sided lamination
- encapsulation
- double sided lamination

Specifications
Specifications
Heat Roller(s): Two / Laminating Speed: up to 5 feet per minute / Max. Width: 18.1" / Warm Up Time: 10 minutes / Laminating Temperature Range: 32F to 284F / Film Core: 3" & 1"
Dimensions
Size: 28" W x 19" D x 16" H / Weight: 99 lbs.
Electrical
110 VAC 60 Hz