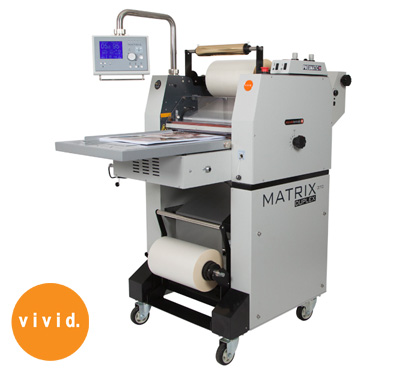 Vivid Matrix MX-370DP - Laminator
Two Heat Rollers, Standard Temperature Range of 32F to 284F. Material Widths up to 13.38".
The Matrix MX-370DP Duplex will halve your production time, laminating both sides of the sheet at the same time.
Pneumatic pressure rollers allow you to laminate certain substrates up to 50% quicker, saving both time and cost.
Whether you gloss the front and matt the back, or use Anti-scratch film on both sides of the print, changing rolls takes a matter of minutes.
Vivid uses the highest quality components within the systems, including Omron switches and Schneider electrics.
Add a Matrix Omni-Flow 370 Deep Pile Feeder for fully automated laminating or foiling.
Video

Features
- Laminate both sides at the same time
- Foil & Spot UV-style effects
- Pneumatic roller pressure
- An easy-to-use fingertip control panel
- Anti-curl technology, ensure that whatever you laminate - comes out smooth and flat.
- Semi-automatic feed with auto-overlap
- Automatic separator

Specifications
Specifications
Heat Roller(s): Two / Laminating Speed: up to 33 feet per minute / Max. Width: 13.38" / Paper Thickness: up to 100 gsm / Warm-up Time: 10 minutes / Laminating Temperature Range: 32F to 284F / Control Panel: LCD / Pressure Adjustment: Pneumatic / Film Core: 3"
Dimensions
Size: 31" W x 71" D x 55" H / Weight: 485 lbs.
Electrical
220-240 VAC 1-phase
Low Noise Compressor Included