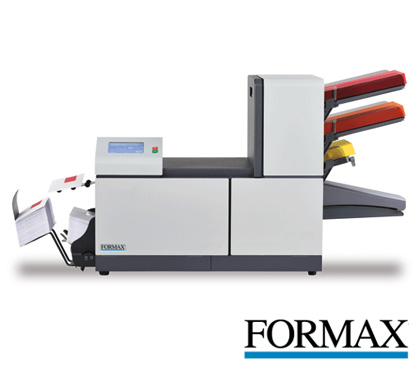 Formax 6204 Series - Folder/Inserter
The 6204 Series brings advanced folding & inserting technology and flexibility to the office environment. A large, color touchscreen control panel with wizard job feature easily guides operators through setup and operation. AutoSet allows for one-touch setup of new jobs by automatically measuring paper lengths, envelope sizes and fold lengths. Recurring and frequent jobs run in AutoSet can also be stored as one of 15 jobs accessed with the push of a button. The powerful folding system enables the 6204 Series to accurately fold up to five sheets of paper at the same time.
Four configurations are available to meet your processing needs. The FD 6204-Basic 1 offers one automatic sheet feeder. The FD 6204-Basic 2 model is equipped with two automatic sheet feeders. The FD 6204-Advanced 1 model has one sheet feeder and one insert/BRE feeder. The FD 6204-Advanced 2 comes with two sheet feeders and one insert/BRE feeder.
Video

Features
- One or two fully-automatic sheet feeders
- One automatic insert/BRE feeder - FD 6204 Advanced 1 & 2
- User friendly color touchscreen display with job wizard step-by-step setup guides
- Fifteen programmable fold applications
- AutoSet one-touch setup
- Fully automatic adjustments
- Seal and non-seal capabilities
- Tip-to-tip envelope sealing for enhanced security
- Two counters: One resettable for addition and batch counting and one non-resettable
- Four adjustable insert fingers
- Double document detection
- Folds and inserts up to five sheets of paper
- Fold types: C, V, Z and Double Parallel, No Fold
- Clamshell design for easy access to paper path

Specifications
Specifications
Feed Hoppers: Up to 325 sheets or approx. 45 BRE's / Speed: Up to 2,200 pieces per hour / Duty Cycle: Up to 15,000 pieces per month / Paper Size & Weight: See Brochure Link near top of this page
Dimensions
Size: 47.2" L x 16.5" D x 20.5" H / Weight: 165 lbs.
Electrical
110 VAC 60 Hz