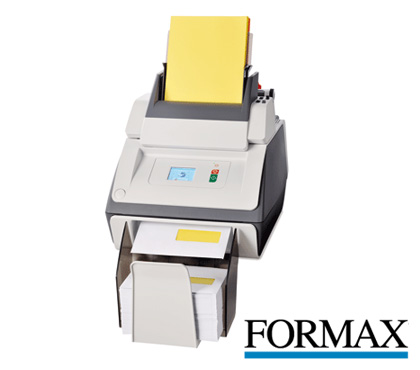 Formax FD 6102 - Folder/Inserter
The FD 6102 inserter offers the latest technology in entry-level tabletop inserters, making it possible for any business to automate its mailings. The affordability of this inserter eliminates the need to send out tens of thousands of mail pieces in order to justify the cost of automation. With the FD 6102, any size company can enjoy the benefits of automated folding and inserting.
Quiet operation and a compact, desktop design fits any office environment. A large, color touchscreen control panel with wizard job feature easily guides operators through setup and operation. Up to 15 jobs can be programmed so that recurring and frequent jobs can be processed with the push of a button.
Don't waste any more valuable time and money manually folding and inserting. Automate your mailings with the FD 6102 and maximize your company's efficiency.
Video

Features
- Two fully-automatic sheet feeders
- One automatic insert/BRE feeder
- Fully automatic adjustments
- Fifteen programmable fold applications
- User friendly color touchscreen display with step-by-step setup guides
- Clamshell design for easy access to paper path
- Folds and inserts documents up to 14" in length
- Double document detection
- Resettable counter provides accurate count of forms processed
- Seal and non-seal capabilities
- Fold types: Letter, Half, Double Parallel & No Fold
- Accommodates #10 and 6" x 9.5" envelopes with adjustable catch tray

Specifications
Specifications
Hopper Capacity: Up to 100 sheets in each sheet feeder (20#), Up to 100 inserts/BREs in the insert feeder, Up to 100 outgoing envelopes / Fixed Speed: Up to 1,360 pieces per hour / Duty Cycle: Up to 5,000 pieces per month / Paper Size & Weight: See Brochure Link near top of this page
Dimensions
Size: 26" L x 17" W x 22" H / Weight: 82 lbs.
Electrical
110 VAC 60 Hz