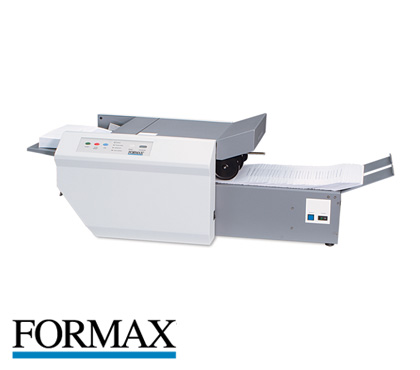 Formax FD 2002 - Pressure Sealer/Folder
The FD 2002 AutoSeal is a powerful desktop model designed to process pressure sensitive self-mailers. An easy to use touch-pad control panel and three roller drop-in feed system make this product both practical and dependable. Its redesigned sliding fold plates make setup and operation even easier, with fine tuning knobs for precision folds.
Standard features include a six-digit counter, jog control, fault detection, and LED indicators. Up to 250 forms can be loaded in the hopper and processed at speeds up to 8,000 per hour.
The FD 2002 is also available as a package, the P2002, which includes a fully enclosed cabinet for storage and an 18" conveyor with photo eye for neat and sequential stacking of processed forms. The cabinet and conveyor are options for the FD 2002.
Shown with optional extended exit conveyor.
Video

Features
- Speed: Up to 8,000 pieces per hour
- Sliding fold plate design
- Processes up to 14" forms
- Touch-pad control panel

Specifications
Specifications
Speed: up to 8,000 pieces per hour / Paper Sizes: up to 8.5" W x 14" L / Paper Weight: 24# to 28# Bond / Feeder Capacity: up to 250 sheets
Dimensions
Machine size: up to 46" L x 16.5" D x 14.25" H / Shipping Weight: 89 lbs.
Electrical
120 VAC 60 Hz