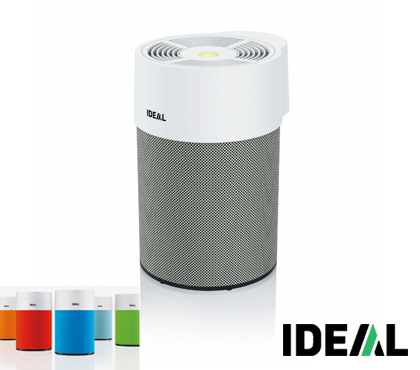 Ideal AP40 Pro Air Purifier - for 400 sq. ft. rooms
The compact and powerful AP40 PRO combines clean design with efficient air purification, with low noise and low power consumption.
The construction of the device ensures a maximum of air throughput and an optimum of filtration.
The 360° multi layer filter removes pollutants such as dust, particulate matter, pollen and allergens, pathogens such as bacteria and mold spores, cigarette smoke, exhaust fumes, chemical vapors, and odors from indoor air.
The central control panel EASY-TOUCH provides function modes such as automatic mode, Level 1/2/3, Turbo and Nightmode at one`s fingertip.
Video

Features
- 360° filter (HEPA + active carbon)
- Premium textile cover
- High performance turbo mode
- Low energy consumption
- Ultra quiet operation
- Night mode
- Remote control
- Superior sensors for automatic mode
- Made in Germany

Specifications
Specifications
Maximum coverage area: up to 800 square feet x 8.2 feet ceiling height
Air flow: up to 258 cubic feet per minute
Fan speed levels: 5
Noise levels (dB): 16.7 – 61.7
Dimensions
Size: 11.7" D x 10.0" W x 15.7" H / Weight: 8 lbs.
Electrical
115 VAC 60 Hz