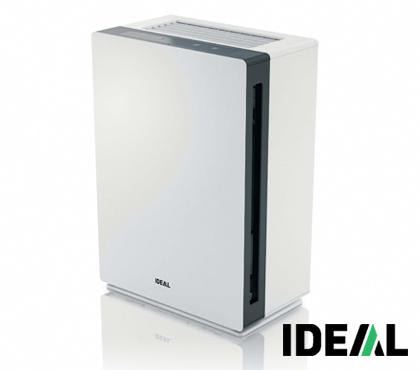 Ideal AP80 Pro Air Purifier - for 800 sq. ft. rooms
The AP80 PRO is a professional air purifier with a high performance 360° multi layer filter. It filters pollutants such as dust, particulate matter, pollen and allergens, pathogens such as bacteria and mold spores, cigarette smoke, exhaust fumes, chemical vapors and odors from the indoor air.
In auto mode, the AP80 PRO continually monitors the air quality with intelligent sensor technology (sensors for fine dust and odors) and automatically controls the power. In turbo mode the AP80 PRO purifies the indoor air in a short period of time. In addition to the automatic and turbo adjustment, the fan speed can be manually adjusted at 3 levels.
The timer function can be preset to operate in "start timer" mode, or in "stop timer" mode. The AP80 PRO automatically informs you, when to change the 360° filter.
Video

Features
- 360° filter (HEPA + active carbon)
- Fine mesh prefilter
- High performance turbo mode
- Low energy consumption
- Ultra quiet operation
- Night mode
- Remote control
- Superior sensors for automatic mode
- Convenient timer (start & stop)
- Made in Germany

Specifications
Specifications
Maximum coverage area: up to 1,600 square feet x 8.2 feet ceiling height
Air flow: up to 470 cubic feet per minute
Fan speed levels: 5
Noise levels (dB): 18.7 – 63.4
Dimensions
Size: 10.8" D x 18.4" W x 26.3" H / Shipping weight: 41 lbs.
Electrical
115 VAC 60 Hz