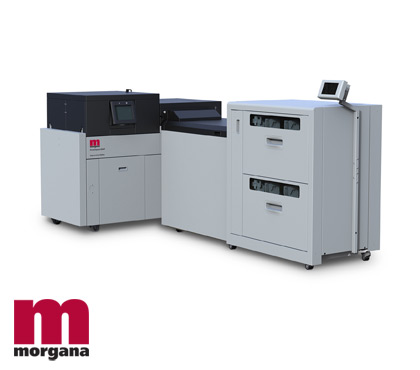 Morgana PowerSquare 224VF Booklet Maker
The Morgana PowerSquare 224VF is a unique and innovative complete book making system designed for high production environments. In a single machine it combines the four processes of stitching, folding, spine forming and trimming to produce SquareBack books up to 224 pages thick.
The system is fed by the VF vacuum assisted feeder which has a loading capacity of up to 21″ high, giving long uninterrupted production runs.
Pre-collated sets can be placed into both bins for longer runs, or covers can be placed into one of the bins when they need to be merged with collated sets. The feeder can also be loaded on the run with automatic bin switching.
Optional barcode readers can be fitted to the VF for variable page count jobs or to ensure set integrity.
Video

Features
- Automatic staple-to-fold tracking gives improved quality with consistent and accurate staple position on the spine
- Integral face trimming produces a professional finish by removing the shingle-edge caused by folding multiple sheets
- Full bleed two knife trimming is available as an option
- Makes books from 4 – 224 pages (1 to 56 sheets)
- Produces high quality SquareBack Books
- Single Heavy Duty Stitch Head Inserts 1 to 6 stitches per book
- Up to 291,500 stitches per spool of wire
- Fully automated
- Ergonomic design
- Renowned PowerSquare build quality for long term reliability and performance

Specifications
Specifications
Book thickness: up to 224 page booklets (56 sheets) on 18# bond paper* / Paper weight range in PowerSquare: 16# bond - 150# cover / Paper weight range in Feeder: 16# bond - 105# cover / Starting paper size: Max. 13.7" W x 19.6" L - Min. 7.8" W x 8.25" L
Dimensions
Due to the variety of configurations available, click on the brochure link near the top of this page.
Electrical
115 VAC 60 Hz
*based on short grain uncoated paper