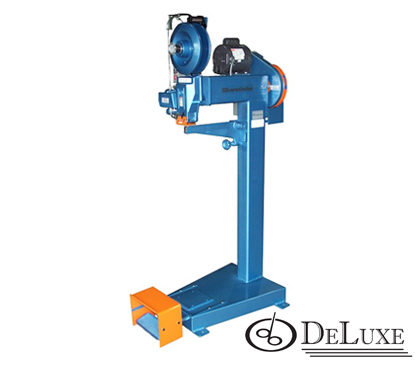 DeLuxe SilverStitcher HF16A/HF25A Box & Tray Stitcher
Arm-type stitchers speed stitching of corrugated trays and baskets; telescope, Bliss and end-closed boxes; also solid fibre drums and boxes.
For longer high-production runs and less downtime, use dual-heads with 25 lb. coil holders.
Optional equipment includes a fatigue-reducing electric trip pedal.
7/16" crown stitch is standard. 1-1/4" crown is optional. All standard sizes of flat stitching wire can be used on these machines.
Specifications
Specifications
Maximum Box Size: HF16A = 32" W x 41.25" D, HF25A = 50" W x 40.5" D / Distance from Front of Frame to Clincher: HF16A = 16", HF25A = 25" / Distance from Top of Base to Clincher: HF16A = 41.5", HF25A = 41.5"
Dimensions
Shipping Size: TBA / Shipping Weight: 515 lbs. to 535 lbs.
Electrical
115 VAC 60 Hz