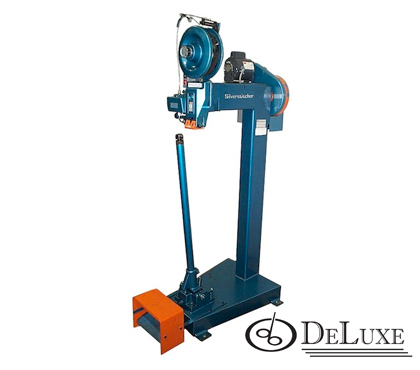 DeLuxe SilverStitcher HF16P/HF25P Box & Tray Stitcher
Use a Post-type stitcher for setting up regular slotted boxes, overlap slotted boxes, full overlap boxes or half-slotted boxes with partial covers. Post-type stitchers close bottoms of slotted boxes quickly, securely to meet all carrier regulations. Select a model to meet your production requirements, using either narrow or wide crown stitching heads.
For production up to 3000 boxes per day, choose a regular duty model. These proven units let you set up as many as 350 RSC boxes per hour all day long.
For greater production and longer runs, a Dual-Head model places two stitches simultaneously lets you set up as many as 600 boxes per hour.
Specifications
Specifications
Maximum Box Size: HF16P = 32" W x 41.25" D, HF25P = 50" W x 40.5" D / Distance from Front of Frame to Clincher: HF16P = 16", HF25P = 25" / Distance from Top of Base to Clincher: HF16P = 41.5", HF25P = 41.5"
Dimensions
Shipping Size: TBA / Shipping Weight: 515 lbs. to 535 lbs.
Electrical
115 VAC 60 Hz