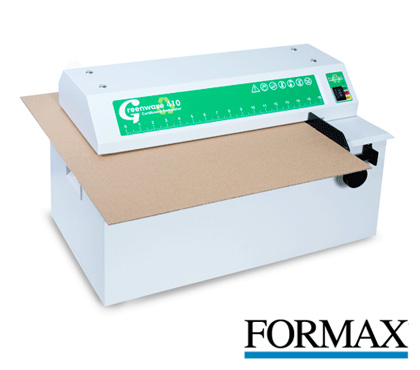 Formax Greenwave 410 Cardboard Perforator
The Greenwave 410 Cardboard Perforator has the solution to help you transition away from single-use plastic and foam packing materials.
The Greenwave 410 uses heavy-duty solid steel blades to transform corrugated shipping cartons into high-quality eco-friendly perforated packing materials. This compact unit fits on a tabletop or shipping work bench, making it ideal for small shipping departments.
Operation is easy: choose the finished size of the packing materials, adjust the cutting guide, press start, and insert cardboard. The Greenwave 410 perforates the cardboard and trims the excess simultaneously. The result is flexible, shock-absorbing netting which is easy to wrap around objects to provide protective cushioning during shipment or to use as void fill.
Video

Features
- Perforates & trims in one pass
- Creates eco-friendly packing materials
- Compact, tabletop unit
- Simple push-button operation
- Up to 34 fpm
- Trims to exact size needed

Specifications
Specifications
Perforating Speed: Up to 34 fpm / Maximum Perforating Width: Up to 16" / Maximum Input Thickness: Up to 0.4" / Motor: 400 watts
Dimensions
Size: 23.2" L x 16.5" D x 14.2" H / Weight: 110 lbs.
Electrical
115 VAC