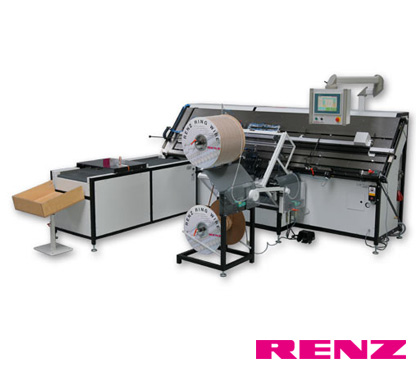 Renz ABL 500 - 19.6" Wire Binder
For RENZ RING WIRE binding from the endless spool, for book-, calendar, and skip binding.
Large format range from 2.75″ to 19.68″, diameter range from 3/16″ – 1″
The prepunched binding material is manually placed onto the feeding station, automatically transported to the binding station and closed.
Fully automatic system for calendar hangers, KAS 300 IL. The Renz concept is the only system in the world to use straight wire pieces which are formed into the hanger shape and then guided into the binding.
Video

Features
- The main control panel used touch-screen technology. The screen clearly displays all current machine data.
- All order-related machine data can be set on the touch-screen and can be stored for repeat orders.
- The product is transported on a low-wear drive belt.
- Fully automatic inline operation for books and calendars up to 0.16" thickness.
- Multiple feeding of manually separated punching layers for books and calendars of thicknesses of ≥ 0.16".
- The ABL 500 single machine can be retrofit with the ASM 500 punching module.
- Quality "Made in Germany"

Specifications
Specifications
Format range bound side: max. 19.68", min. 2.76", on request 20.47" / Format range unbound side: max. 27.55", min. 2.76" / Book thickness: max. 0.79" / Punch and binding capacity: up to 2,100 books per hour or up to 1,900 calendars per hour (depends on product, logistics and operator) / Possible wire diameters: 3/16″ to 1″ one set of closing bars is required for each wire diameter / Pitch: 4:1, 3:1, 2:1 / Piece counter: yes / Processing of straight wire pieces: KAS 300 IL
Dimensions
Size: 10.8 feet L x 7.6 feet D x 5.2 feet H / Weight: approximately 5,280 lbs.
Electrical
230 VAC 3-phase 60 Hz
Compressed Air Required
18 cfm at 110 psi