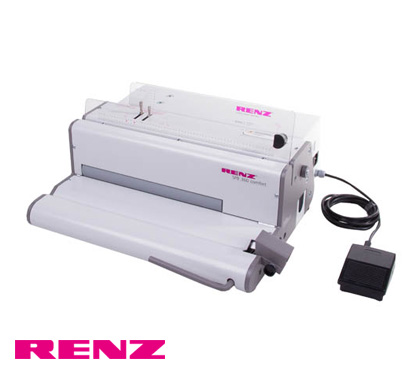 Renz SPB 360 ComfortPlus - 14.1" Coil Binder
The spirals are easily inserted into the pre-punched book by means of an electrical drive.
The integrated spiral cutting and crimping unit perfectly cuts and crimps the plastic spiral ends. Metal spirals can be cut, using a SC-pliers.
Desktop spiral punching and inserting machine. Designed for low to medium volumes of PVC coil books production.Designed for regular use in a small to medium sized office.
Video

Features
- Binds up to 0.63" (160 sheets of 70 gsm paper)
- Punch capacity 0.79" (20 sheets 70 gsm paper)
- Integrated spiral cutting and crimping unit (only for plastic spirals)
- Quick Size Adjustment for high flexibility of different paper lengths
- Adjustable side lay for perfect punching registration
- Special hardened punch pins for long lasting life
- Staggered punching pins for better punching
- Easy to empty sliding waste tray
- Unique electric roller for quick coil insertion
- Clever crimper and cutter for turning coil ends
- Measures the document or coil size
- Compact design & heavy duty construction

Specifications
Specifications
Min. punching width: 0.39" / Max. punching width: 14.17" / Min. unpunched length: 1.97" / Max. unpunched length: 20.47" / Max. punching thickness: 0.79" / Punching operation: Electric / Punch pattern of machine: Oval 4.5 x 3.6 mm x 0.2475" pitch / Selectable punch pins (QSA): Yes / Variable margin depth: No / Binding thickness: 0.04" to 0.63" / Binding element diameter: 6 to 20 mm / Min. binding width: 0.39" / Max. binding width: 14.17 / Binding operation: Electric insert, manual crimp and cut
Dimensions
Size: 19.3" L x 17.3" D x 9.9" H / Weight: 71 lbs.
Electrical
115 VAC 60 Hz