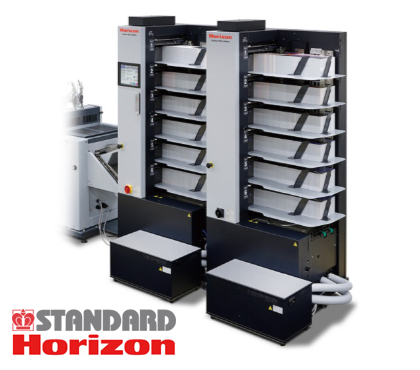 Standard Horizon VAC-L600H Vacuum Feed Collator
The Standard Horizon VAC-L600H Air-Suction Collator features an expanded paper size capacity and improved feeding performance. With a suction rotor feed system, the VAC-L600H can reliably and efficiently feed a wide range of paper weights and textures with minimal effort.
Combined with the StitchLiner Mark III Saddlestitcher or the SPF-200L Bookletmaker, the system is capable of producing landscape booklets, large format calendars, and more with ease and efficiency.
The VAC-L600H is a Deep-Pile Collator that has five inches of bin capacity allowing for less frequent reloading of paper and long-run production efficiency and productivity.
Up to six VAC-L600H towers can be combined to create 6, 12, 18, 24, 30 or 36-station systems in a minimum of floor space.
The touch-screen allows for ease of operation, programming, error detection, and system monitoring.
Video

Features
Improved feeding: Individual air supply at each bin provides independent adjustment at each bin regardless of paper stock and quality for stable and efficient feeding.
Paper size capacity: Sheets up to 24" in length can be loaded in each bin, and an optional extra side blower can be equipped for stable feeding of large size or heavier weight substrates.
Paper flexibility: The VAC-L600H features optional back-side, air sufficient sheet separation for heavy large format sheets and stable sheet handling of light weight and difficult paper stocks.
Energy savings: Power consumption is reduced by nearly 35% with the VAC-L600H as compared to previous models.
Connectable to Booklet Making Systems: StitchLiner Mark III or SPF-200L

Specifications
Specifications
Number of Bins per Tower: 6 (Suction-feed) / Maximum Number of Towers: 6 (6, 12, 18, 24, 30, 36 Stations) / Bin capacity height: 5.11″ / Bin capacity weight: 57.3 lbs. / Sheet Size: Maximum 14″ W x 24.01″L Minimum 5.83″ W x 5.83″ L / Paper Weight Coated - 74 gsm to 207 gsm / Paper Weight Normal - 53 gsm to 207 gsm / Paper Weight of 8-page fold signature: Up to 104 gsm / Production Speed(s) 6 bins: Max. 9,900 sets per hour, 12 bins: Max. 6,900 sets per hour, 18 bins: Max. 6,400 sets per hour, 24 bins: Max. 5,000 sets per hour, 30 bins: Max. 4,500 sets per hour, 36 bins: Max. 4,000 sets per hour
Dimensions
Due to the variety of configurations available, click on the brochure link near the top of this page.
Electrical
200 to 220 VAC 60 Hz 1-phase per tower