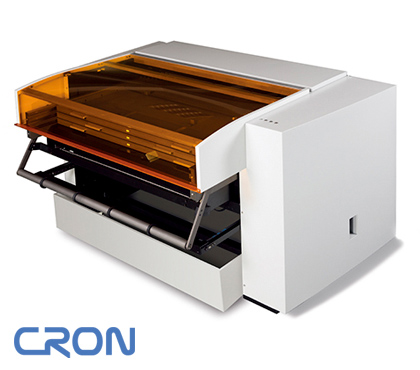 CRON AL36 Plate Autoloader
CRON Autoloaders are designed and built to match the performance of their related platesetter. All models, apart from the 66/72 Series, are available with either single or multiple plate cassettes to enable multiple-plate-size loading or uninterrupted production.
Each model has been designed to be easy to operate and also includes positive interleaf paper removal and collection. Reliable and smooth operation is ensured by advanced plate handling and accurate registration systems.
Specifications
Model: AL36-200
Cassettes: 1 / Max loading quantity per cassette (0.3 plates): 200 / Max loading quantity: 200 plates
Model: AL36-500
Cassettes: 1 / Max loading quantity per cassette (0.3 plates): 500 / Max loading quantity: 500 plates
Model: AL36-50M3
Cassettes: 3 / Max loading quantity per cassette (0.3 plates): 50 / Max loading quantity: 150 plates
Plates
Max loading size: 925 mm x 670 mm / Min loading size: 320 mm x 240 mm / Types of plate: UV or Thermal
Size & weight
Dimensions: (1580 mm L x 980 mm W x 1020 mm H) to (1600 mm L x 1200 mm W x 1100 mm H) / Machine net weight: 350 kg to 500 kg
Power & working environment
Power supply: 1-phase 220-240 VAC 50/60 Hz / Power: 1.5 KW / Humidity range 20 - 70% (non condensing)