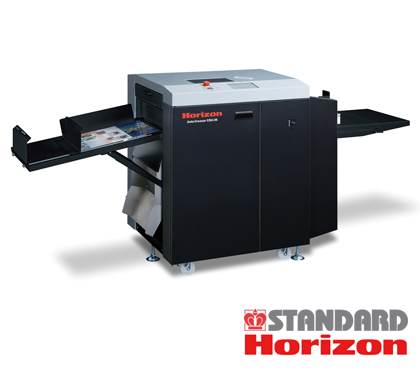 Standard Horizon CRA-36 Creaser
The Standard Horizon CRA-36 Auto Creaser processes high quality creasing with an automated feeding function, capable of up to 10 creasing lines per sheet.
Perforation can be performed by simple unit replacement.
Rotary perforation, edge trim and gutter cut also possible in one pass as option.
Impact creasing helps to prepare high quality perfect bound book covers.
Designed for digital and offset printed sheets, the CRA-36 eliminates cracking common with digital print, cross grain and UV coating.
Video

Features
Sharp Creasing
Suitable for creasing covers, restaurant menus, shop cards, invitation cards, and laminated sheets. The impact creaser avoids cracking on digitally printed applications.
Preparing Perfect Bound Book Covers
High quality creasing helps to prepare high quality covers for perfect bound books. Spine, hinge, and flap creases can be properly produced by selecting up or down creasing.
Perforation
The supplied impact perforation unit and the optional rotary perforation unit enables perforation in both directions. Coupons or tickets can be perforated in one pass.

Specifications
Specifications
Maximum Sheet Size: 14.33″ W x 34″ L / Minimum Sheet Size: 4.14″ W x 7.09″ L / Stock Weight Range: 80 to 400 gsm / Maximum Pile Height: 5.9 inches
Dimensions
Size: 95.6" W x 27.6" D x 41.1" H / Weight: 502 lbs.
Electrical
100-120 VAC 60 Hz