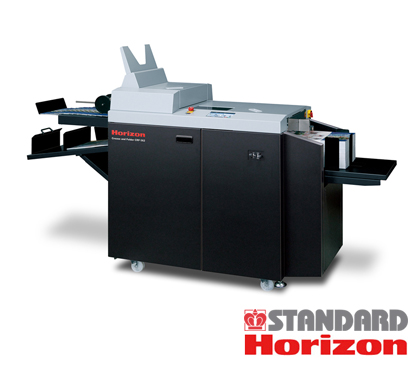 Standard Horizon CRF-362 Creaser/Folder
The Standard Horizon CRF-362 Creaser/Folder has been designed to handle the unique requirements of creasing and folding digital color output across a wide range of light and heavy weight stocks, coated or uncoated. Creasing and folding can be done in one pass for easy and accurate processing of a variety of applications such as restaurant menus, greeting cards, book covers, and marketing collateral.
The CRF-362 comes configured with seven selectable fold patterns and six selectable cover creasing patterns for perfect binding including spine, hinge, and flap creasing. Capable of up to ten crease lines on a sheet, the system uses an impact scoring technology that eliminates or minimizes cracking of the stock or printed image. Set-up and changeovers – including fold pattern, creasing number, and up/down crease selection – can be easily achieved through the high resolution color touch screen designed for simple and intuitive operation.
Video

Features
Up and Down Crease Blade Set
The CRF-362 has one "Up" and one "Down" crease blade installed in the machine. It's easy to select any crease direction from the touchscreen without having to reload stock for a second pass.
Sharp Creasing and Folding
Suitable for creasing covers, restaurant menus, shop cards, invitation cards, and laminated sheets. The impact creaser avoids cracking on digitally printed applications.
Preparing Perfect Bound Book Covers
High quality creasing helps to prepare high quality covers for perfect bound books. Spine, hinge, and flap creases can be properly produced by selecting up or down creasing.
High Quality Folding
Two fold knives are equipped for high quality folding, even on heavy stocks. 6 different folding patterns can be set up by using the icon based touch screen.

Specifications
Specifications
Maximum Sheet Size: 14.33″ W x 34″ L / Minimum Sheet Size: 4.14″ W x 7.09″ L / Stock Weight Range (crease & fold): 80 to 350 gsm / Stock Weight Range (creasing only): 80 to 400 gsm / Folding Speed: Up to 5,000 sheets per hour / Maximum Pile Height: 5.9 inches
Dimensions
Size: 108.0" W x 27.6" D x 56.3" H / Weight: 760 lbs.
Electrical
200-240 VAC 1-phase 60 Hz