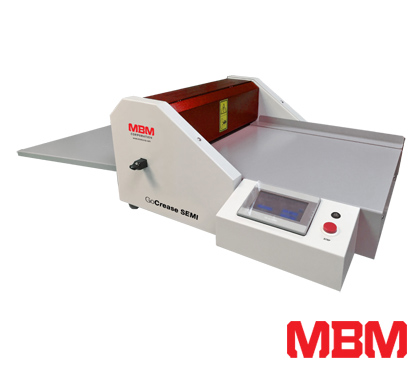 MBM GoCrease SEMI Hand Feed Creaser
The GoCrease SEMI is a creasing and/or perforating machine with programmable control and a working width of 18".
Manual paper input, paper movement powered by motor.
Creasing enables high-quality folds of digitally printed paper.
Up to 5 pre-set applications can be stored in program memory.
Automatically measures sheet size.
3 sizes of creasing bars included (2 x CITO technology, 1 x iron channel).
Video

Specifications
Specifications
Speed: up to 1,500 with 1 crease / Paper weights: 80-400 gsm (creasing), 80-250 gsm (perforating) / Custom programs: 5 / Maximum working width: 18"/ Maximum number of creases per sheet: 15 / Minimum distance of creases: 0.07"
Dimensions
Size: 23.5" D x 45" W x 12" H / Weight: 120 lbs.
Electrical
120 VAC 60 Hz