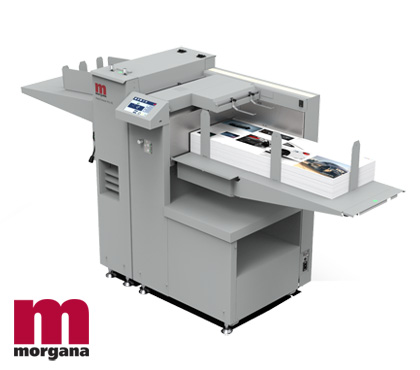 Morgana AutoCreaser Pro XL Creaser
The AutoCreaser Pro XL is an easy to use automatic paper creasing system with a cost efficient vacuum top feeder. The unique creasing rule in the AutoCreaser Pro XL eliminates paper tearing and therefore cracking.
A New Feeder - Morgana's new Adaptive Process Control (APC) monitors sheet feeding in a closed loop process, delivering outstanding performance and reliability. The new AutoCreaser Pro XL is specifically designed to handle the widest range of media. The Feeder continuously checks the paper float zone and automatically makes adjustments on the fly. This is an industry first for a product of this class and ensures highest feed reliability. Operators of all skill levels can get the most out of the AutoCreaser Pro XL.
Video

Features
Edge registered vacuum top feeder with an outstanding load capacity of up to 7.8" high
New sheet separation controlled by optical sensor array – automatically adapts to different media, weights and types
Automatic feeding parameter selection based on paper size and thickness – simplifies set up regardless of operator skill
Ultrasonic double sheet detection
Table extendible up to 51" long to support popular longer sheet applications
Powerful creasing unit can accept standard and narrow creasing blades as well as optional cross perforation blades
Optional second creaser enables up/down creasing in one pass
Simplified adjustments and blade changeovers without special tools
Inline rotary perforation, up to five at the same time
Optional cross perforation unit available

Specifications
Specifications
Maximum sheet size: 51" L (with extension) x 15" W / Minimum sheet size: 8.25" L x 3.89" W / Maximum paper thickness: 0.015" / Minimum paper thickness: 0.004" / Maximum number of creases per sheet: 30 / Maximum feeder pile height: 4" to 7.8" depending on sheet size / Delivery Stacker Capacity: up to 4.7" high / Minimum repeat crease distance: 0.03" / Minimum crease distance from lead edge: 0.09" / Minimum crease distance from tail edge: 1.37" / Speed (8.5" x 11"): Up to 8500 sheets per hour
Dimensions
Size: 66.5" to 100" L x 28.7" W x ?" H / Weight: TBA
Electrical
220-240 VAC 1-phase 60 Hz