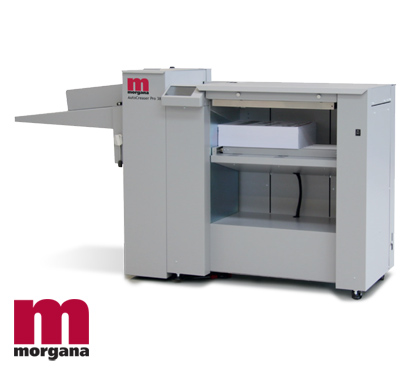 Morgana AutoCreaser Pro 385 High Pile Creaser
The AutoCreaser Pro 385 is an easy to use automatic paper creasing machine with a deep pile feeder for digital printers, which allows the user to employing a unique creasing rule that eliminates paper tearing and therefore cracking.
The AutoCreaser Pro 385 is equipped with the very latest in technology to enable automatic set up of jobs, including setting of all feeder functions, by selecting just a few simple parameters on the MorganaSmartScreen touch screen control.
The new deep pile feeder allows stacking of up to 17.72" of paper to enable longer runs and is equipped with a SmartStep table drop for fast loading of shorter run jobs. Paper feeding is controlled by a new vacuum top feeding drum that can automatically change between a wide range of paper types and thickness with little operator intervention.
Video

Features
- Crease without cracking
- Intuitive SmartScreen touch screen control
- Takes stock up to 0.015" (approx 150lb)
- Maximum sheet size 15.16" x 27.5"
- Suction feed top feeder
- Deep pile 17.72" capacity feeder
- SmartStep table drop
- Up to 16 creases per sheet
- Creasing blade and matrix guaranteed for life
- Dual creasing blades
- Up to 8500 sheets per hour
- In-line perforating as standard

Specifications
Specifications
Maximum sheet size: 15.16" W x 27.5" L / Minimum sheet size: 8.25" x 5.51" / Maximum paper thickness: 0.015" / Minimum paper thickness: 0.004" / Feeder Pile height: 17.72" / Maximum number programmed applications: 50 / Minimum repeat crease distance: 0.04" / Creasing blades: 2 / Minimum crease distance from lead edge: 0.1" / Minimum crease distance from tail edge: 0.1" / Speed: up to 8500 sheets per hour (1 crease on A4 paper)
Dimensions
Size: 83.82" L x 26" W x 48.62" H / Weight: 463 lbs.
Electrical
220-240 VAC 1-phase 60 Hz