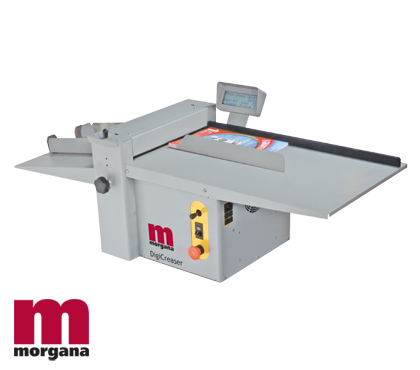 Morgana DigiCreaser Hand Feed Creaser
The Morgana manufactured DigiCreaser fills the gap between our manual machines and fully automatic machines like the best selling AutoCreaser Pro range.
While it's cost is little over half that of an AutoCreaser, it offers exactly the same creasing quality and accuracy. This is because it uses an identical matrix and rule action, with the same technology to control both the positioning of the creases, but also to give a completely consistent creasing depth.
The DigiCreaser is no slouch when it comes to productivity. All functions are fully automatic after feeding and the unit can operate at speeds up to 4,000 sheets per hour. Up to 9 creases can be achieved in one pass and the sophisticated controls enable jobs to be stored and retrieved for repeat work.
Features
- Fast & easy to setup
- Fully automatic after feeding
- Bench top with small footprint
- Takes stock up to 0.015" (approx 150lb cover)*
- 4000 sheets per hour
- Memory for storing repeat jobs
- Adjustable crease depth & square
- Rotary perforating as standard
- Crease without cracking

Specifications
Specifications
Maximum sheet size: 24.8" L x 12.9" W / Minimum sheet size: 6.2" x 5.5" / Maximum paper thickness: 0.015" / Minimum paper thickness: 0.004" / Maximum number of crease per sheet: 9 / Maximum number programmed applications: 6 / Minimum repeat crease distance: 0.03" / Minimum crease distance from lead edge: 0.98" / Minimum crease distance from tail edge: 0.78" / Speed (A4): Up to 4000 hand fed sheets per hour
Dimensions
Size: 34.2" L x 22.5" W x 23.2" H / Weight: 126 lbs.
Electrical
220-240 VAC 1-phase 60 Hz