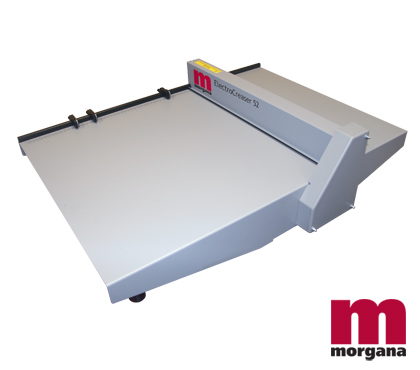 Morgana ElectroCreaser 36 & 52 Hand Feed Creaser
The semi-automatic ElectroCreaser is the ideal unit for printers who need something faster than a manual creaser - such as the Morgana DocuCrease - but do not have the volume of work to justify a fully automated machine like the Morgana AutoCreaser Pro.
Unlike scoring, which can damage card or paper, the Morgana blade and matrix method ensures a clean sharp fold without damage to the substrate. It provides 2 creasing widths as standard, 0.04" and 0.06" - with the ability to change from one to another in seconds. It also has a special "Super Speed" stop system, which greatly simplifies jobs that call for multiple creases.
The creasing matrix of the ElectroCreaser is electronically activated by a foot switch for increased accuracy and productivity.
Video

Features
- Fast & easy to setup
- Semi-automatic
- Foot switch operation
- Takes stock up to 0.015" thick
- Heavy duty
- Two machine widths available: 36cm or 52cm
- Crease without cracking

Specifications
Specifications
Maximum sheet size - model 36: 17" W x 14.3" L / Maximum sheet size - model 52: 20" W x 20" L / Minimum crease distance to backstop: 1.18" / Maximum paper thickness: 0.015" / Minimum paper thickness: 0.004"
Dimensions - model 36
Size: 27.5" L x 18.8" W x 8.26" H / Weight: 39 lbs.
Dimensions - model 52
Size: 30.7" L x 25" W x 8.6" H / Weight: 61 lbs.
Electrical
115 VAC 60 Hz