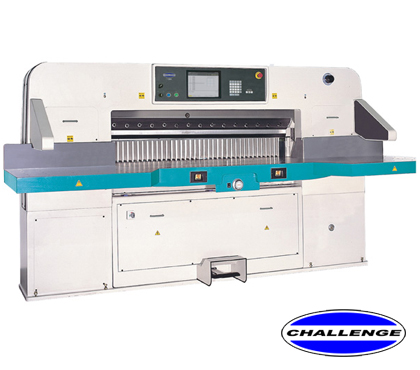 Challenge iCutter Heavy Duty Cutters
Mechanical drive paper cutters from Challenge Machinery provide precise, trouble-free operation at an incredible value.
The iCUTTER interface provides the platform for optional CIP/JDF integration.
The larger 15" color touch-screen control panel gives the operator more job information at a glance.
Machine maintenance reminders, complete self-diagnostics and error-detection, and advanced job storage/retrieval capabilities will bring your bindery into the next era of cutting proficiency.
Photo shows the model 1580 iCutter (62").
Features
- Manual/semi-automatic and automatic operation modes
- Backgauge with AC servomotor, ball screw, and linear guide
- Adjustable clamping pressure
- Table light/optical cut line indicator
- Plated, cast iron air table
- Easy knife change system
- Electro-magnetic clutch and brake system
- Double end pull knife drive system (single end pull on 860 and smaller)
- Shear bolt for cutting system protection
- Two hand cut control with non-repeat safety system
- Infrared safety light curtain
- Closed rear table

Specifications