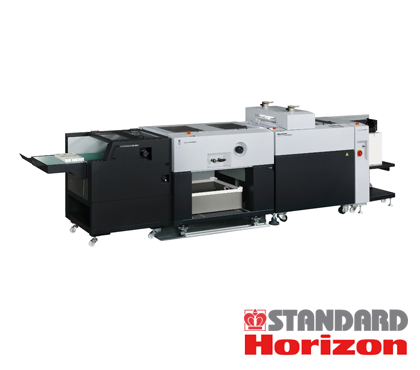 Standard Horizon RD-N4055 Die Cutting System
The RD-N4055 Die Cutting system combines a high-capacity feeder, a single- or dual-magnetic cylinder die cutter, a specially designed separator, and an optional card stacker into a highly efficient, versatile system for operator-friendly production.
As part of Standard Horizon's popular RD series of die cutters, the system can die cut, kiss-cut, emboss/deboss, crease/score, perforate, slit, hole punch, and round corner in a single pass or in multiple combinations for a wide range of applications including business cards, invitations, labels, door hangers, light packaging, and more.
With the addition of the SPC-N4055 separator and optional CSD-40RD card stacker, this new system also eliminates the need for manual separating and counting at the delivery section to allow operators to work more efficiently, improve accuracy with an automated, verified piece count, and increase production efficiency for small and short-run pieces.
Video

Features
Stacked output
Small-format product is pile stacked – in 1-up or in multiple stack output – and transported by belt for offloading at the delivery section, eliminating time-consuming manual separation, counting, and stacking.
New separator
The SPC-N4055 separator contains 20 transport belts (up from 12), each with a smaller diameter than previous generations, for more accurate separation, more stable operation, and smoother transportation.
Individual stack counter
A sensor on each delivery path counts individual pieces to eliminate human error in counting and to improve accuracy. The system flags and displays any undercounts on the system's touchscreen monitor so that operators can catch errors quickly.
Higher productivity
The RD-N4055 system can increase productivity by 20% compared to the previous model. For example, using a max sheet size of 21.65" x 15.74" and long-edge imposition (4×9), the system can support 36-up business card applications, reducing the required number of parent sheets from 9 to only 7 with easy separation and stacking. In addition, a new minimum sheet spec of 3.15" x 1.969" enables more efficient production of small pieces.
Suction belt transport
The suction belt provides stable transport of individual pieces post separation. Single piece delivery is much more efficient than stream delivery for transporting and stacking small pieces. Its base settings cover all types of stocks, but the vacuum draw down can also be adjusted depending upon stock and piece size.

Specifications
Specifications
Sheet Feeding System: Vacuum Belt feed / Sheet Size(Before Processing): Maximum 15.74″ W x 21.65″ L down to Minimum: 7.88″ W x 10.83″ L / Finished Sheet Size (With Separator): Maximum 14.8″ W x 20.8″ L down to Minimum 1.97″ W x 3.15″ L / Finished Sheet Size (Without Separator, with nicks): Maximum 15.1″ W x 20.8″ L down to Minimum (Depending on die shape) / Processed Material: Normal Paper, Coated Paper, Cardboard / Material Thickness: 127.9 to 400 gsm / Feeder Pile Height: 19.68″ / Production Speed: Up to 6,000 cycles per hour
Dimensions
Due to the variety of configurations available, click on the brochure link near the top of this page.
Electrical
200-240 VAC 1-phase 60 Hz
Air
Due to the variety of configurations available, click on the brochure link near the top of this page.