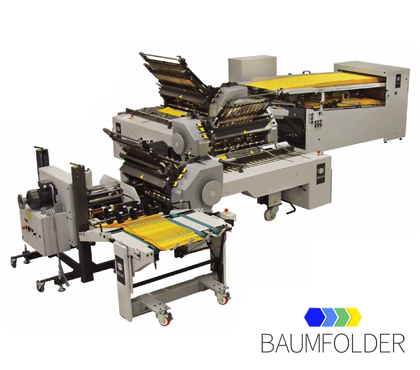 Baum 32 CLFF Continuous Large Format Folder
The BAUM 32 Continuous Feed Folder offers new features, and is designed for high productivity and years of trouble-free operation. With a lower profile feeder, optional coupling modules and a variety of optional delivery systems this folder is one of the most versatile machines on the market.
Baum offers multiple solutions to add additional folding stations to existing large format folding machines or for inline solutions with other finishing applications.
Other applications may include but are not limited to:
• In line with stitching machines
• In line with forms cutters and bursters
• In line with creasing/scoring machines
• In line with digital print engines
• In line with mailing bases
• and more
Video

Features
- Touch Screen control panel
- Baum ifold tutorial standard
- BaumQuick paperless roller gapsets
- Extended mobile delivery stacker
- Built in Batch Counter with variable batch
- Micro-adjustment on fold plates
- Exclusive dual front blow bar
- 1.125" removable slitters shafts
- Quiet-positive helical gear drive
- Optical lead edge sensor
- Combination folding rollers
- Total Counter
- Low profile ergonomic top feed table height
- Diagnostic Message Display

Specifications
Specifications
Maximum sheet size: 32.28" W x 50.39" L / Minimum sheet size: 5.51" x 7.09" / Maximum Speed: Up to 9,055 inches per minute
Dimensions
Due to the variety of configurations available, click on the brochure link near the top of this page.
Electrical
220 VAC 3-phase 60 Hz