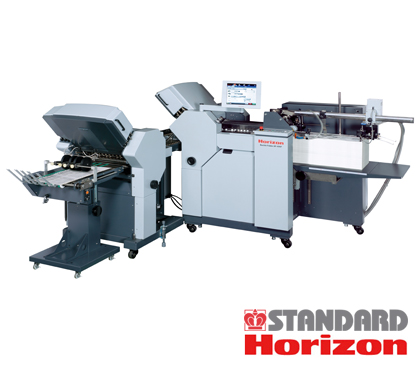 Standard Horizon AF-406F Folder
The Standard Horizon AF-406F is a small-format fully automated 6-buckle folder with pile feed and suction head with an optional 6-buckle second unit that can be added straight or cross-wise, for sheet sizes from 1.97" x 3.94" up to 16.92" x 25.98". Small folds down to .79" can be performed. This provides application flexibility, especially for the insert, and pharmaceutical markets.
The AF-406F has 17 pre-set fold patterns. For production efficiency, 200 custom jobs can be stored in memory for easy recall, with automated make-ready in seconds.
A user-friendly 10.4" color touch-screen control panel displays all common fold formats and sheet sizes for easy selection and automated setup.
Video

Features
Advanced Automated Setup Functions
Each section is set automatically by selecting the sheet size and fold pattern on the touchscreen. The advanced automated setup allows easy and quick changeover.
Pharmaceutical Folds
A selection of folding rollers are available to fold various type of sheets including thinner sheets for pharmaceutical. A double counter is provided at both the feeder and delivery sections. This facilitates jobs that require accurate counting control.
Stable Feeding
A superior suction feed system and feed table control provides stable feeding operation.
Scoring Roller Position Navigator
The scoring roller position navigator is equipped so that positioning of the scoring wheels are simple, fast and accurate. The delivery belt unit is movable for easy access and quicker adjustments. (this function is optional on the AF-406S)
Memory Function
All the set up information can be stored in job memory for easy recall. Up to 200 jobs can be stored.
6+6 buckle modular
6+6-buckle modular concept allows simple to complex fold patterns. Common fold patterns can be selected from the touchscreen for easy setup.
Long Table Option (factory option)
Extended table model is also available to feed sheet lengths up to 43.310".

Specifications
Specifications
Maximum Sheet Size: 16.92″ W x 25.98″ L / Minimum Sheet Size: 1.91″ W x 3.94″ L / Sheet Weight Range: 33 to 157 gsm / Belt Speed: 30 to 180 meters per minute
Dimensions
Due to the variety of configurations available, click on the brochure link near the top of this page.
Electrical
200-220 VAC 3-phase 60 Hz / 220-240 VAC 1-phase 60 Hz