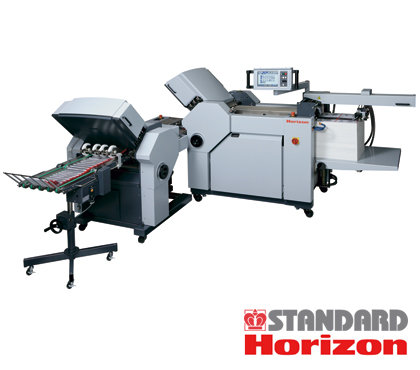 Standard Horizon AF-566T4F Folder
The Standard Horizon AF-566T4F Buckle-buckle Folder is a fully automated six + four-buckle folder that accepts sheets up to 21.97" x 34". The AF-566T4F has the "intelligent automation" that is built into all Horizon post-press products, best illustrated by the intuitive, icon-based, 10.4" color touchscreen that displays all common fold formats and sheet sizes for easy selection. Precise stepper motors drive end stops and fold plates to the exact location for the sheet size and fold style selected. Up to 200 custom jobs can be stored in memory for easy recall, with automated make-ready in as little as 14 seconds.
The AF-566T4F is equipped with 6 buckles on the first station and 4 on the second station–which can be added straight or at a right angle–for maximum application flexibility. This folder has been designed to serve the graphic arts and digital print markets, with ultra-quick changeovers and specially-formulated combination roller and scoring systems that handle sensitive digitally-imaged sheets without marking.
Video

Features
Graphical user interface for intuitive operation
A large, color touchscreen control panel is icon based for user friendly operation. The graphical touch screen guides the user through all setup procedures with ease, and allows fast, easy navigation for all other system operations.
Fully automated setup increases efficiency and quality
42 sections are automatically setup by inputting the sheet size and fold pattern through the touchscreen. Fully automated setup enables any operator to produce consistent, high quality folding applications.
Flexible modular concept increases folding capabilities
6+4 modular concept allows for simple to complex fold patterns that maximize folding variations. Cross folding can be performed with the 6+4 buckle module at a right angle. Thick or digitally printed sheets can be scored on the 1st station and folded on the 2nd station. With the 6+4 connected straight, zigzag 18 panel folding can be performed.

Specifications
Specifications
Maximum Sheet Size: 21.97″ W x 34″ L / Minimum Sheet Size: 5.04″ W x 5.83″ L / Sheet Weight Range: 35 to 232 gsm / Belt Speed: 30 to 240 meters per minute
Dimensions
Due to the variety of configurations available, click on the brochure link near the top of this page.
Electrical
200-220 VAC 3-phase 60 Hz