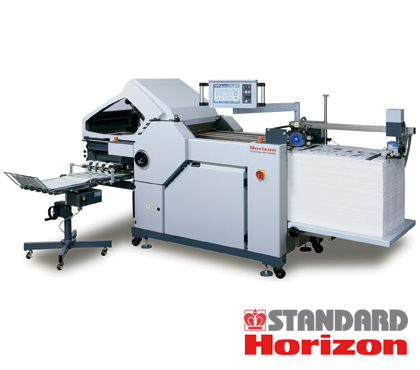 Standard Horizon AFC-566FG Folder
The Standard Horizon AFC-566FG Automated Floor Model Folder includes advanced set-up automation through a user-friendly 10.4" color touch-screen control panel that displays all common fold formats and sheet sizes for easy selection.
The AFC-566FG brings folder automation to new heights with fully automated setup, including gap settings. This folder has been designed to serve the graphic arts and digital print markets, with ultra-quick changeovers and the ability to handle sensitive digitally-imaged sheets without marking, enabled by specially-formulated combination roller and scoring systems.
The AFC-566FG is equipped with 6 fold plates, which allow a wide variety of fold patterns in a minimum amount of floor space, at speeds up to 42,000 sheets per hour.
Video

Features
Automated Setup
17 fold patterns are automatically set by selecting the sheet size and fold pattern on the LCD touchscreen. Each section is set automatically by high precision stepper motors for high quality folding.
Color LCD Touchscreen
The 10.4 inch color touchscreen is icon-based for user-friendly operation. The graphical interface screen provides intuitive operation for folding setup, speed adjustment and all other fine adjustments.
Superior Folding Quality
Superior and consistent fold quality is ensured with steel and soft formed polyurethane combination rollers. A high precision stepper motor is employed for fine tuning in 0.005 mm steps with a simple touch of the + or - button.
6 Buckle Plates
The AFC-566F and AFC-566AKT are equipped with 6 buckles, 1 cross knife, and 2 buckles under the cross knife, allowing a wide variety of fold patterns in minimal floor space.
High Speed Feeder
Horizon's advanced rotary suction feed system with side blowing assist air, for fast and consistent feeding of a wide range of paper stocks.

Specifications
Specifications
Maximum Sheet Size: 21.97″ W x 34.46″ L / Minimum Sheet Size: 5.04″ W x 5.83″ L / Sheet Weight Range: 35 to 232 gsm / Belt Speed: 30 to 240 meters per minute
Dimensions
Due to the variety of configurations available, click on the brochure link near the top of this page.
Electrical
200-220 VAC 3-phase 60 Hz