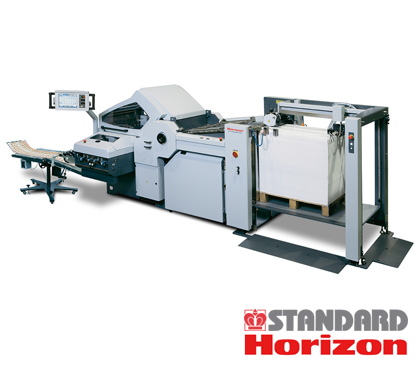 Standard Horizon AFC-746F Large Format Folder
The Standard Horizon AFC-746F Large-format Folder includes advanced set-up automation through a user-friendly color touch-screen control panel that displays all common fold formats and sheet sizes for easy selection. The folder features quick changeover and fully automated setup with up to 47 automated adjustments including in-feed, roller gap, buckle fold, and knife-fold sections.
The AFC-746F is very flexible – with 6 buckle plates + 1st knife + 2 buckles under the knife, one buckle standard + 2nd knife. It handles sheet sizes up to 29.1" x 43.3" and as small as 8.27" x 11.695" with programmable memory for up to 200 different jobs. It includes a pallet pile feeder with suction head.
The AFC-746F also contains a new ergonomically friendly slitter shaft removal system, where the operator can remove the perforation shaft automatically for easier blade setting – a quick releaser lever, internal elevator, and slide out carriage highlight this new feature.
Video

Features
User-friendliness
A large, color touchscreen control panel is icon-based for userfriendly operation. The graphical touchscreen guides the user through all set-up procedures with ease, and allows fast, easy navigation for all other system operations.
Advanced Automation
Each section is set automatically by inputting the sheet size and fold pattern through the touchscreen. Accurate stepper motors allow fine adjustment in increments of 0.1 mm. Thanks to this automation, even an inexperienced operator.
Superior Folding Quality
Superior and consistent fold quality is ensured with steel and softformed polyurethane combination rollers. The distance between the foam rubber rings is very narrow. So the overlap of the edges on the upper and lower fold rollers increases, providing exact folding quality.
Knife Stopper Fine-adjustment
The knife stopper can be fine tuned in the range of +/-0.5 mm.

Specifications
Specifications
Maximum Sheet Size: 29.1″ W x 43.3″ L / Minimum Sheet Size: 8.27″ W x 11.695″ L / Stock Weight Range: 35 to 209 gsm (uncoated paper) / Maximum Pile Height: 47.2″ (pallet included)
Dimensions
Due to the variety of configurations available, click on the brochure link near the top of this page.
Electrical
Due to the variety of configurations available, click on the brochure link near the top of this page.