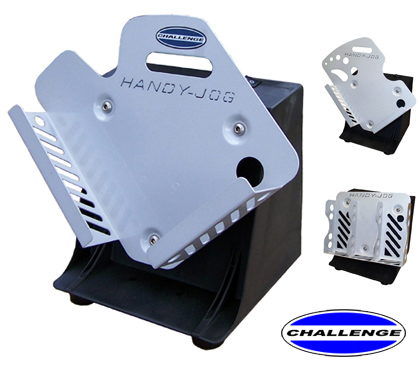 Challenge Handy-Jog Paper Jogger
The Handy-Jog is a low cost highly effective paper jogger that fits into the most cost conscious budget.
With its small footprint, the Handy-Jog can be placed beside any machine even in crowded shops. Its high power and quiet operation efficiently jogs paper up to 11" x 17".
Unlike other low cost joggers that have motors, bearing, and rubber couplings, the Handy-Jog has no moving parts that will wear or require maintenance.
Also, the Handy-Jog has an available optional footswitch that makes operation convenient and efficient.
Features
- Three models to choose from. Standard tray 8.5" x 11", or Check tray 9.5" x 12", or Large 11" x 17" tray
- Powerful jogging action
- Quiet operation
- Maintenance-free drive mechanism
- Optional "Instant-On" footswitch

Specifications
Dimensions
Size: 9.25" D x 16.5" W x 15" H / Shipping Weight: 17 lbs.
Electrical
115 VAC 60 Hz