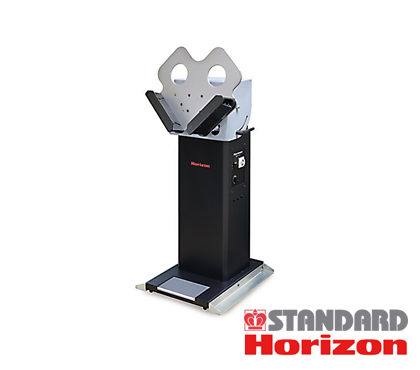 Standard Horizon PJ100 Paper Jogger with Air
For higher production needs, the floor model Standard Horizon PJ-100 Jogger will jog a 4″ lift of paper in a vertical position or a horizontal position to suit your operating requirements. The V-shaped jogger tray allows you to jog a criss-cross stacked pile easily.
The PJ-100 is easy to set up and operate. A foot pedal switch starts and stops the jogger so both hands are free.
The Standard PJ-100 paper jogger provides relief to difficulties in jogging today's statically charged digital output.
The PJ-100 features air-assist to remove static and a cycle down timer to ensure that the printed pages stay jogged when the motor stops.
Specifications
Specifications
Paper size: 5" x 7.2" to 11" x 17" / Sheet capacity: 3.7" of paper
Dimensions
Size: 18.1" D x 19.3" W x 44.7" H / Shipping Weight: 122 lbs.
Electrical
115 VAC 60 Hz