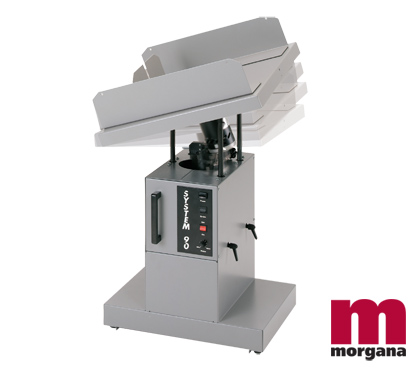 Morgana System 90 Jogging Catch Tray
The Morgana System 90 Jogger is designed to complement and interface with many machines in the Morgana range.
Because of the angle of the jogger and the fact that it is fully adjustable in height, the jogger can be wheeled up to various machines to act as a jogging catch tray making the delivery of sheets much easier.
It has a robust motor which provides variable jogging power that will knock up the most demanding materials. Full rotation control is standard.
The System 90 Jogger is an essential piece of equipment for printers who need to jog individual sheets coming off machines such as UV Coaters.
Video

Features
Designed for use at end of UV Coaters
Height & angle adjustable
Adjustable rotation
Mobile for use with many machines
27.5" x 20" sheet size

Specifications
Specifications
Paper size: up to 20" x 27.5"
Dimensions
Size: 27.5" D x 19.6" W x 35.4" H / Weight: 86 lbs.
Electrical
115 VAC 60 Hz