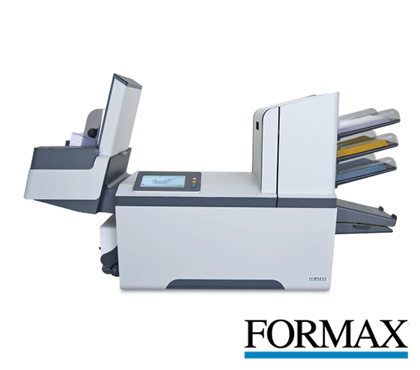 Formax 6306 Series - Folder/Inserter
The 6306 Series Inserters combine user-friendly features with high productivity. Five models are available to meet the needs of any size office or mailroom. A variety of input configurations includes a high-capacity document feeder for up to 725 sheets, a high-capacity production feeder, standard and special feeders, and short feed trays.
Features include a 7" full-color touchscreen control panel with graphical interface, high-capacity vertical stacker which holds up to 500 finished envelopes, automatic paper and envelope presence sensors with indicators on the control panel, and a large top-loading envelope hopper with a capacity of up to 400 envelopes. The 6306 Series includes an energy-saving feature which automatically puts the inserter into standby mode after 1 hour of being idle.
The 6306 Series is powerful enough to fold up to 8 pages in tri-fold and up to 10 pages in half-fold modes.
Video

Features
- 5 Models Available: Choose the features that best suit your applications
- 7" Color Touchscreen Control Panel: Graphical interface provides quick, easy setup
- 50 Programmable Jobs: Handy for recurring or frequently processed applications
- High-Capacity Vertical Stacker: Holds up to 500 finished envelopes in a neat, sequential stack
- Fully Automatic Adjustments
- Envelope & Paper Presence Sensors: Graphic indicators on touchscreen assist operators
- AutoSet: Automatically senses and sets paper length, fold type, envelope size, fold length and double document detection.
- Clamshell Design: Easy access to the paper path
- Production Feeder: Holds up to 1,200 sheets (20#) or 325 BREs
- Accumulate Before Folding: Documents are fold and inserted all together
- Double Document Detection: Essential for document security
- Eco Mode: Energy-saving feature places the inserter into sleep mode after 1 hour of inactivity

Specifications
Specifications
Speed: Up to 3,800 pieces per hour / Duty Cycle: Up to 40,000 pieces per month / Standard Feeders: Up to 325 sheets each, 20# bond / High-Capacity Feeder (Standard 2F, Special 2F, Standard 2FP models): Up to 725 sheets, 20# bond / Envelope Hopper: Up to 400 envelopes, top-loading / High-Capacity Vertical Stacker: Up to 500 filled envelopes / Paper Size & Weight: See Brochure Link near top of this page
Dimensions
Size: 51" L x 20" D x 29" H / Weight: 175 lbs.
Electrical
110 VAC 60 Hz