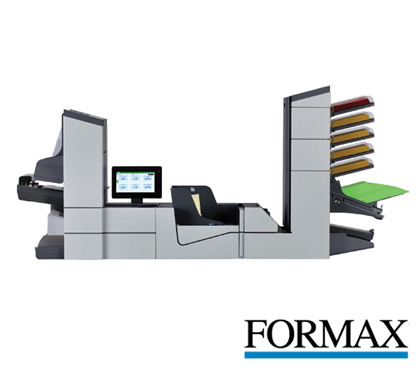 Formax 6608 Series - Folder/Inserter
The modular 6608 Series is available with 2 to 7 stations for flexibility, and includes a variety of input configurations: a high-capacity document feeder for up to 725 sheets, 1 or 2 high-capacity production feeders, standard and special feeders, and short feed trays.
User-friendly features include the 10" color touchscreen control panel with graphics-based display and automatic paper and envelope presence sensors, a vertical output stacker which holds up to 500 filled envelopes, and a top-loading envelope hopper with a capacity of up to 500 envelopes which can be refilled on-the-fly. AutoSet allows operators to load envelopes and documents, then adjusts all settings automatically with the ability to store up to 50 programmed jobs for instant recall.
Its powerful folding capacity folds up to 10 sheets (half fold) or up to 8 sheets (tri-fold) at one time, plus Cascade Mode allows users to link feeders for continuous operation: when one feeder empties, another takes over.
Features
- Full-Color Touchscreen: 10" touchscreen display features graphic icons for simple, intuitive use
- Modular Flexibility: Configurations are available with up to 7 fully-automatic feed stations
- AutoSet: Load envelopes and documents and the 6608 Series will adjust all settings automaticallyvPaper & Envelope Presence Sensors: Control panel displays which feeders need to be refilled
- Mid-Volume Processing Speed: Processes up to 4,300 envelopes per hour
- 50 Programmable Jobs: Program frequently used jobs for quick and easy operation
- High-Capacity Vertical Output Stacker: Holds up to 500 finished envelopes with reverse stacking output, maintaining printing order
- Large, Top-Loading Envelope Hopper: Holds up to 500 envelopes with on-the-fly reloading for continuous operation
- Handles a Variety of Envelope Sizes: Inserts into envelopes up to 6.3" H x 9.7" W
- Variety of Fold Types: C, Half, Z, Double Parallel and no fold
- Daily Mail Mode: Easily inserts stapled sets
- Multi-Feeding: Allows for a set number of pieces to be pulled from one feeder, then collated and inserted automatically
- Cascade Mode: Feeders can be linked for continuous operation, when one feeder runs empty, another takes over, allowing operators to refill as needed until the job is complete
- Rugged Folding Capability: Folds up to 10 sheets (half fold) or up to 8 sheets (tri-fold) at once
- Versatile: Folds and/or inserts sheets, BREs and cards automatically
- Insert Capability: Folds/inserts top, middle and bottom address documents into top-flap envelopes
- Eco Mode: Saves energy by automatically switching into standby mode after one hour of inactivity

Specifications
Specifications
Feeder Capacity: Up to 325 sheets, 20# paper (each feeder), 725 (Production Feeder) / Envelope Hopper Capacity: Up to 500 envelopes, top-loading / Vertical Output Stacker: Up to 500 filled envelopes, reverse stacking output / Side Exit Tray (optional): Up to 500 filled envelopes / Speed: Up to 4,300 pieces per hour, #10 envelopes / Duty Cycle: Up to 80,000 pieces per month / Programmable Jobs: Up to 50 / Paper Size & Weight: See Brochure Link near top of this page
Dimensions
Size: 60" L x 18" D x 31" H / Weight: 242 lbs.
Electrical
110 VAC 60 Hz