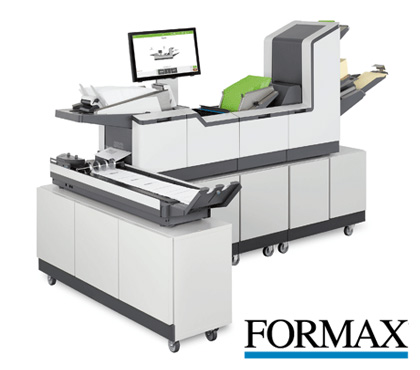 Formax 7104 Series - Folder/Inserter
The Formax 7104 Series Inserters take flexibility and productivity to new heights. With 3 configurations, and an optional Productivity Package, this system can meet the challenge. The modular design offers up to 8 modules with up to 17 feed stations, with high-capacity feeders, and a standard capacity of up to 1,500 sheets. Each system is available with these standard feeder combinations: one 1,000-sheet feeder, one 500-sheet and one 1,000-sheet feeder, or three 500-sheet feeders. The top-loading envelope hopper holds up to 800 #10 envelopes.
A 22" color touchscreen interface guides operators through job programming and functions, and with unlimited programmable jobs, it's even easier to run recurring or frequently processed applications.
The 7104 Series processes up to 4,500 envelopes per hour (up to 5,500/hour with the optional Productivity Package), producing up to 180,000 finished pieces per month.
Features
- Modular Design: Flexibility to add up to 8 modules with up to 17 feed stations
- Intuitive User Interface: 22" color touchscreen
- Quick and Easy Setup: Automatic job setup
- Programmable Jobs: Unlimited
- Versatile: Inserts sets up to 6mm thick
- Fast: Processes up to 5,500 envelopes per hour
- Powerful Folding Capacity: Folds up to 8 sheets at a time
- Fold Types: C, Half, Z, Double Parallel and no fold
- Document Feeder Capacity: Standard up to 500 sheets each, high capacity up to 1,000 sheets each
- Envelope Feeder Capacity: Up to 800 envelopes
- Double Document Detection: Mechanical
- Accumulation/Divert Deck: High-speed/capacity accumulator, divert tray
- Automatic Document Measurement: Measures inserts for easier job setup and operation
- Continuous Operation: Versatile Feeders are bottom-feeding for reloading on-the-fly
- Glossy Paper Capability: Tower Folder and Feeder Folder can feed glossy paper
- Sealing Liquid Reservoir: 10 liters, sealing up to 100,000 envelopes
- Custom Cabinets: Ergonomically designed on casters for convenient moveable storage
- High-Capacity Output Conveyor: Holds up to 500 filled envelopes, can be used straight-on or at 90°
- Daily Mail Mode: Feed stapled or unstapled sets simply by opening the accumulator

Specifications
Specifications
Speed (1-sheet, letter fold): Up to 5,500 per hour / Accumulation Speed (multiple sheets): Up to 9,400 per hour / Feeders: Up to 17 / Tower Feeder Capacity: Standard 1F: One 1,000-sheet feeder, Standard 2F: One 500 and one 1,000-sheet feeder, Standard 3: Three 500-sheet feeders / Envelope Feeder Capacity: Up to 800 / Duty Cycle: Up to 180,000 pieces per month / Paper Size & Weight: See Brochure Link near top of this page
Dimensions
Size: 76.5" L x 18.5" D x 36" H / Weight: 400 lbs.
Electrical
115 VAC 60 Hz