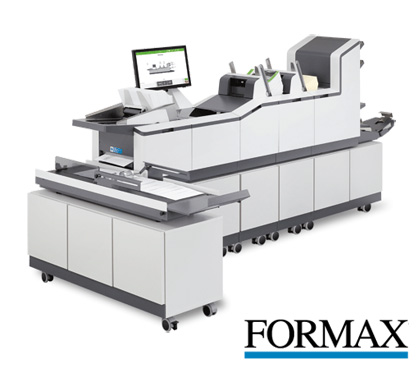 Formax 7202 Series - Folder/Inserter
Formax 7202 Series Inserters combine user-friendly innovation with flexibility and productivity. A key feature is the 22" color touchscreen interface, which guides users through job set-up, and includes context-sensitive help on every screen. Unlimited programmable jobs lead to even greater productivity.
The 7202 Series has the power to process up to 5,000 envelopes per hour, including flats up to 10" x 13", folds up to 8 sheets at once, and produces up to 200,000 finished pieces per month. The modular design can be configured with up to 11 feed stations, with high-capacity feeders, and a standard capacity of up to 2,000 sheets. Versatile Feeders have been redesigned for easier loading on-the-fly, and offer the ability to insert a variety of media.
Standard features include a high-capacity 4-foot outfeed conveyor, an accumulator/divert deck, and custom cabinets.
Features
- Modular Design: Flexibility to add feed stations, from 1 to 11
- Intuitive User Interface: 22" color touchscreen, with context-sensitive help on every screen
- Quick and Easy Setup: Automatic job setup with document & envelope library
- Programmable Jobs: Unlimited
- Flats Insertion: Inserts into landscape format flat envelopes, up to 10" x 13"
- Versatile: Inserts sets of up 50 sheets into flats, and thin booklets up to 6mm thick
- Fast: Processes up to 5,000 envelopes per hour
- Duty Cycle: Up to 200,000 envelopes per month
- Powerful Folding Capacity: Folds up to 8 sheets at a time
- Fold Types: C, Z, Half, Double Parallel and no fold
- Auto Fold Plate Adjustment: Simply set the first fold plate and the second sets itself automatically
- Document Feeder Capacity: Standard up to 500 each, high capacity up to 1,000 each
- Envelope Feeder Capacity: Up to 800 #10 or 6" x 9" envelopes, up to 500 10" x 13" landscape flats
- Double Document Detection: Mechanical, more accurate than light-based sensors
- High-Capacity Output: 4-foot Output Conveyor can be used straight-on or at 90° to the system
- Continuous Operation: Versatile Feeders are bottom-feeding for reloading on-the-fly
- Accumulation/Divert Deck: High-speed/capacity accumulator, divert tray holds up to 300 sheets
- Daily Mail Mode: Dedicated semi-automatic feed tray allows for feeding stapled or unstapled sets
- Cascade Mode / Feeder Auto Re-Start: Feeders can be linked to process up to 2,000 continuous sheets, and contain sensors for auto-start after refilling
- Custom Cabinets: Ergonomically designed, moveable storage

Specifications
Specifications
See Brochure Link near top of this page
Dimensions
Size: 107" L x 25" D x 36" H / Weight: 743 lbs.
Electrical
110 VAC 60 Hz