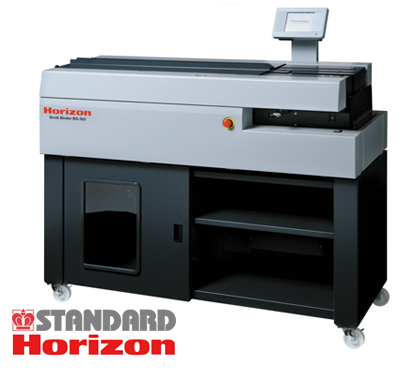 Standard Horizon BQ-160 Perfect Binder/Padder
The Standard Horizon BQ-160 Single-clamp Perfect Binder produces professional-quality books with a simple and efficient binding procedure.
The BQ-160 binder is also capable of padding and tape binding.
A dynamic color touchscreen allows the operator to easily adjust a range of settings including cover alignment with the spine, nipping pressure, clamping pressure, and much more.
Other features on the BQ-160 include energy-save and auto-off functions, the ability to notch in one or both directions, and an optional carbon air filtration system to reduce adhesive odors.
The BQ-160 can produce extremely strong, high quality perfect bound books up to 1.6" thick at speeds up to 180 cycles per hour.
The BQ-160 can handle light to moderate production needs in almost any environment.
Video

Features
Color Touchscreen
A graphical icon-based color touchscreen is provided for easy set-up and operator navigation.
Clamping Section
The clamp opens and closes with the simple press of a button for operator convenience.
Notching Section
The double-pass notching function produces strong book binds. Notching can be easily set ON or OFF from the touchscreen.
Glue Tank Section
Uniquely designed glue tank ensures superior glue application to the book spine for quality binding.
Nipping Section
Strong nipper mechanism ensures quality book binds. Nipping pressure, nipping height and angle can be adjusted from the touch screen.
Cover Section
Perfect binding, tape binding and padding can be performed. Tape width can be adjusted automatically by selecting desired width from the touchscreen.
Specifications
Specifications
Book Size Maximum: 13.7″ Spine Length x 11.81″ / Book Size Minimum: 2.8" Spine Length x 5.04″ / Book Thickness: 0.04″ to 1.6″ / Cover Size Maximum: 13.7″ x 25.1″ / Cover Size Minimum: 2.8″ x 10.1″ / Cover Weight Range: 82 to 302 gsm / Production Speed Maximum: up to 180 cycles per hour
Dimensions
Size: 21.3" D x 54" W x 52.5" H / Weight: 449.8 lbs.
Electrical
115 VAC 60 Hz