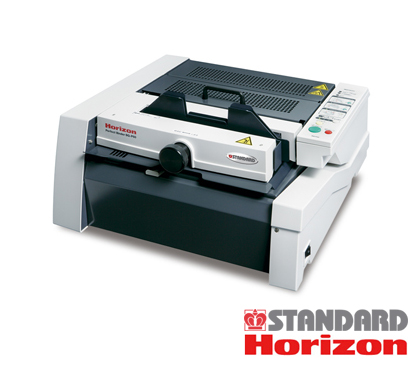 Standard Horizon BQ-P60 Perfect Binder/Padder
Never before has a compact unit offered as much versatility as the BQ-P60 Document Binding System (perfect binding, spine taping, and padding).
Able to produce perfect binds and spine taped books at a rate of up to 180 books an hour, the BQ-P60 is ideal for users that have divergent, low-volume binding demands. Adding the option of padding up to 480 ¼" note-pads an hour makes this compact unit a truly productive and unique option for many office and print environments.
The BQ-P60 also contains an adhesive application adjustment, a power saving mode, a built in fume extractor, and uses a lower temperature adhesive.
Video

Features
Easy operation
The display indicator lamps on the operating panel guide you through the simple operating steps
High productivity
Up to 180 cycles/hour
Professional binding quality
A cover is glued to the book spine and then clamped to create an attractive finished appearance
Flexible binding styles
Choose from three different binding styles -- Cover Binding, Tape Binding, or Padding
Comfortable operation
An integrated smoke extractor and filter system is a standard feature to clean the air and remove any glue odors from office environments
Eco-friendly
Low-temperature glue and, eco-mode, reduces power consumption
Specifications
Specifications
Book Size Maximum: 12.4″ Spine Length x 8.2″ / Book Size Minimum: 8.3" Spine Length x 5.9″ / Book Thickness: up to 0.9″ / Cover Size Maximum: 12.4″ x 17.5″ / Cover Size Minimum: 8.3″ x 11.7″ / Cover Weight Range: 82 to 210 gsm / Production Speed Maximum: up to 180 cycles per hour
Dimensions
Size: 24.3" D x 23.7" W x 10.7" H / Weight: 449.8 lbs.
Electrical
115 VAC 60 Hz