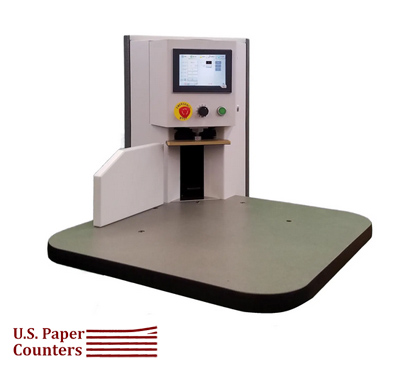 U.S. Paper Counters InteleCount
The newest addition to the Count-Wise lineup, is the Intelecount (CW-IC) which incorporates features such as; counting at up to 2500 sheets per minute, Auto adjusting tape (tab) length, multibatching with up to 99 different amounts, security count mode with password protection, the ability to save up to 25 different jobs with customized names, export / import via network or flash drive, on board diagnostic and much, much more.
Video

Features
Standard Features
Counting speeds of 2500 CPM
Tab insertion from 5 to 9999 sheets
Multi-Batching
Color Touch screen
Save / Load jobs (via internal hard drive or USB thumb drive)
Security miscount clamp
Options
Base cabinet with locking storage compartment and wheels for mobility
Foot activated start switch
Larger, smaller, and custom tables
Air flotation tables
Customized user interface

Specifications
Specifications
Throat Height: 8" / Standard table Size: 28" x 28" / Maximum Sheet Size: 27" x 27" / Minimum Sheet Size: 3" x 3" / Paper Range: 14 lb. bond to 10 point (dependent on paper substance and flexibility)
Dimensions
Size: 34.5" W x 52" D x 33.5" H / Weight: 202 lbs.
Electrical
120 VAC or 220-240 VAC 1-phase 60 Hz