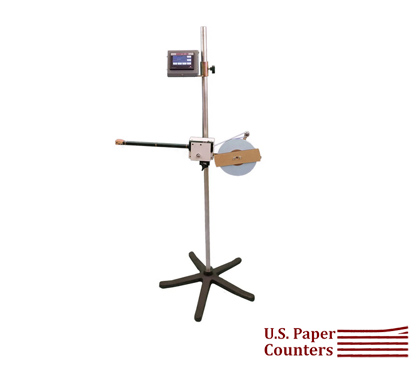 U.S. Paper Counters Shooter IID - Tab Inserter
This is a free standing counter/tabber that accurately counts and inserts paper tabs into the delivery pile of presses, sheeters, paper board machines and paper converting equipment with receding pile deliveries.
The Sharp-Shooter option features the ability to count and tab acceptable material, while flagging spoilage material by means of a red dye marked tab using a wireless remote control.
Setup is a breeze with it's pedestal, adjustable head height and various tape chute lengths. Predetermined tabbing is as easy as pushing a button.
An electronic coupling pick-up (Universal connection 12-120V AC or DC count pulse connection) or Dry Contact (no Voltage connection) or optional Laser sensor, attached to your equipment, creates a pulse or input, representing a single sheet count to the electronic control unit.
Video

Features
Standard Features
Counting speeds equal to your equipment
Tabbing at various batch increments
Panel and remote control start/stop/count for spoilage
Capacity to operate two tabbing heads
High speed batch selector
Variable tape length control
Variable knife cut delay
Pedestal base
Touch Screen user interface
Options
Laser sensor
Custom tape chute lengths (8″ up to 36″)
Various pedestal heights available
Additional tabbing head

Specifications
Specifications
See brochure near the top of this webpage
Dimensions
Size: Height from 20" to 60" / Weight: 40 lbs.
Electrical
110 VAC or 220-240 VAC