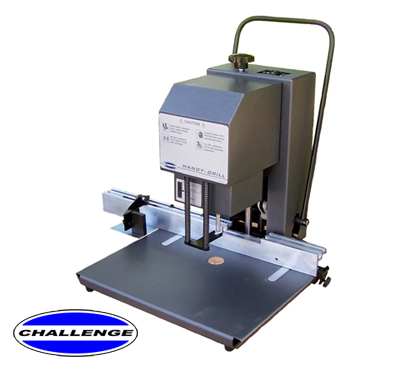 Challenge Handy-Drill Single Spindle Paper Drill
The Handy-Drill is designed to provide quality finishing at an affordable price.
Easy on and off since the spindle motor automatically turns on when the pull-down lever is moved and automatically switches off when the lever returns to the up position.
Due to this "on demand" motor operation, this paper drill is very quiet and welcome in any environment.
Features
- Hand lever drill operation
- 2-1/2" drilling capacity
- Drill Bit Sizes Available: 1/4", 5/16", 3/8", 1/2"
- Conviently located chip collector
- Adjustable Backgauge Stops
- Adjustable Margins

Specifications
Specifications
Number of Drill Heads: 1 / Drill Sizes Available: 1/4", 5/16", 3/8", 1/2" / Maximum Drilling Capacity: 2-1/2" / Backgauge Adjustment: 0 to 2-1/2"
Dimensions
Size: 21.2" D x 24" W x 22.375" H / Weight: 70 lbs.
Electrical
115 VAC 60 Hz