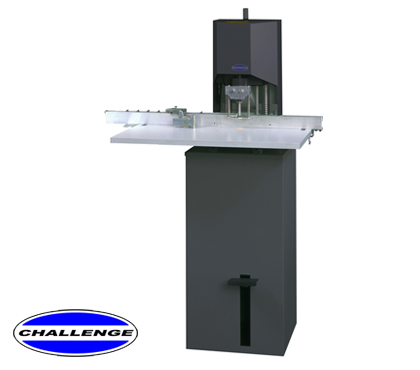 Challenge JF Single Spindle Paper Drill
The JF floor model paper drill is a quiet drilling machine thanks to its manual foot pedal operation.
A powerful electric drill head motor spins through stacks of paper effortlessly, while the foot pedal gives an operator plenty of leverage for easy drilling.
Another benefit of the manual foot pedal system is that this machine is lightweight and easy to move as needed.
Simple 115 VAC power makes this machine able to plug in anywhere.
Features
- Foot pedal drill head operations
- 2" drilling capacity
- Drill Bit Sizes Available: 13 sizes from 1/8" to 1/2"
- Min. Distance Between Holes: 3/8" center to center
- Max. Distance Drill to Side Guide: 18.5"
- Max. Margin Hole Center to Sheet Edge: 4"
- Side Guide Trip: Automatic

Specifications
Specifications
Number of Drill Heads: 1 / Drill Sizes Available (2" capacity): 1/8" to 1/2" / Maximum Drilling Capacity: 2" / Backgauge Adjustment: 0 to 4"
Dimensions
Size: 32" D x 42" W x 60" H / Weight: 154 lbs.
Electrical
115 VAC 60 Hz