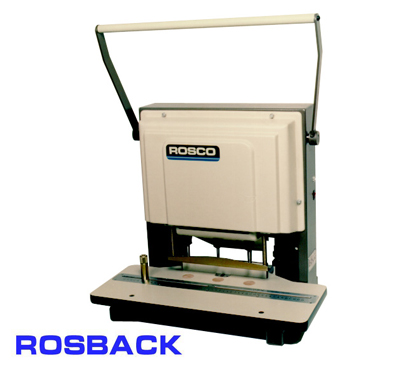 Rosback 370 Three Spindle Paper Drill
The Rosback 370 is a fixed spacing 3-Spindle drill at a price you'd expect to pay for a single spindle tabletop model.
Versatile, dependable Rosback 3-Spindle drills put increased drilling capacity and flexibility within reach for a variety of users, including commercial, in-plant and quick printers, offices, churches, schools, government facilities, and mailrooms.
Capable of drilling a full two inches of stock in a single stroke with extreme accuracy thanks to the fixed position drill heads.
This machine is the perfect solution for those that only need to drill traditional 3-hole drill spacing in paper.
Equipped with automatic chip ejection. An optional floor stand is available.
Video

Features
- 2" Stock Capacity
- 12 Drill diameters available: 1/8" through 1/2" (see brochure)
- Comfortable Hand Lever Operation
- Rugged Construction
- Sealed Bearings
- Locking Back Gage
- Vertical Head Adjustment
- Fast Setup and Change Over
- Automatic Chip Ejection
- Heavy-Duty 3/4 HP Motor

Specifications
Specifications
Maximum Capacity: 2" / Maximum Back Margin: 2.5" / Max Side Margin: 12" / Fixed Distance Between Holes: 4-1/4"
Dimensions
Size: 21" D x 28" W x 38" H / Weight: 140 lbs.
Electrical
120 VAC 1-phase 60 Hz