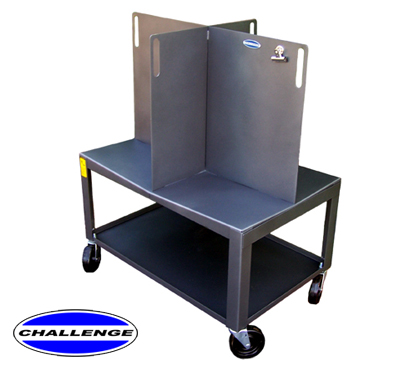 Challenge Handy-Cart Multi-Purpose Cart
BENEFITS - Locate your Handy-Cart:
PRINTERS
- near the press or printer for stacking stock and printed jobs.
- by the cutter for handling stock before and after trimming.
- next to the folder or collator for holding jobs before or after processing.
- by the book binders to place completed books.
MAIL ROOM & OFFICES - store office supplies and route mail with your Handy-Cart.
COPY ROOMS - store copier stock and letterhead on your Handy-Cart for easy access.
Features
- Holds 4 piles of 11" x 17" Stock up to 21" tall
- 500 lbs. Total Capacity
- Large, 5" swivel casters for easy rolling
- Four conveniently located handles
- Full-size lower shelf with sides to prevent items from sliding off
- Solid Construction

Specifications
Specifications
Shelf Dimensions: 11" x 17" x 21" tall / Number of Shelves: 4 / Lower Shelf Height Capacity: 13-7/16" / Maximum Total Capacity: 500 lbs
Dimensions
Size: 22" D x 34" W x 41.34" H / Shipping Weight: 90 lbs.