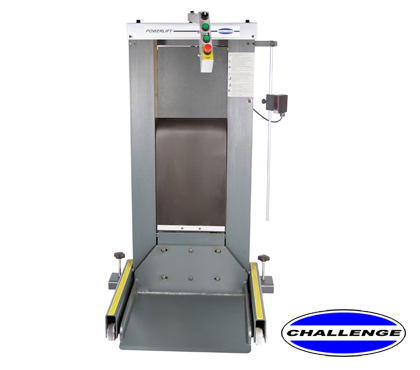 Challenge PowerLift I - Paper Lifter
Save your back with the Challenge PowerLift I.
The PowerLift I is designed to help your cutter operator work more efficiently with less back strain. No more bending over to manually lift large sheets of paper into your paper cutter.
With the PowerLift positioned next to a paper cutter, you simply roll a half pallet of paper onto the lift. The lifting motor will keep the top of the paper pile just above the table of the cutter, at a height of your choosing.
The PowerLift I can also be used after cutting to build a pile of paper that automatically lowers to the ground as the paper pile is built.
Put a PowerLift on both sides of your paper cutter for continous lifting and lowering operation.
Features
- Handles a pallet up to 21.75" x 22"
- Lifts and Lowers up to 2,500 pounds
- Lifts to meet cutter table heights up to 36-1/2"
- Hydraulic Lifting Power · Welded Steel Frame Construction
- Auto or Manual Up/Down Controls
- Adjustable Height Infrared Auto Lift/Lower Sensor
- Sensor Arm is Mountable on Left or Right of Stack
- Swivel Mounted Control Arm

Specifications
Specifications
Maximum Pile Dimensions: 21.75" x 22" / Maximum Weight on Shelf (Load Capacity): 2,500 lbs / Maximum Lift Height: 40"
Dimensions
Size: 42" D x 35" W x 66.4" H / Weight: 1500 lbs.
Electrical
120 VAC 60 Hz 12 Amps (service size 15 Amps)