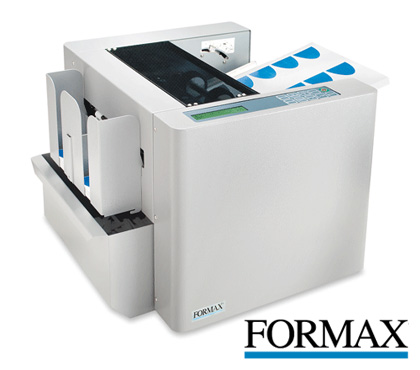 Formax FD 120 - Slitter/Cutter
The FD 120 Card Cutter is ideal for processing color business cards, postcards, greeting cards and photos, right from your desktop. The FD 120 automatically cuts and slits documents and stacks them in sequential order at speeds of up to 130 business cards per minute.
Features include an easy-to-use control panel with LCD display, 6 pre-programmed jobs, 6 programmable jobs, and the ability to cut letter and legal size paper, up to 300gsm. Optional interchangeable slit/score/perforation cassettes offer even greater productivity.
Video

Features
- Cuts and slits cards
- LCD Display
- 6 programmable jobs

Specifications
Specifications
Sheet Size: from 8.5″ W x 11″ L up to 8.5″ W x 14″ L / Sheet Weight Range: 120 to 300 gsm / Feeder Capacity: up to 75 sheets / Speed: up to 13 sheets per minute
Dimensions
Machine Size: 15.4" L x 13.8" D x 13" H / Shipping Weight: 60 lbs.
Electrical
110 VAC 60 Hz