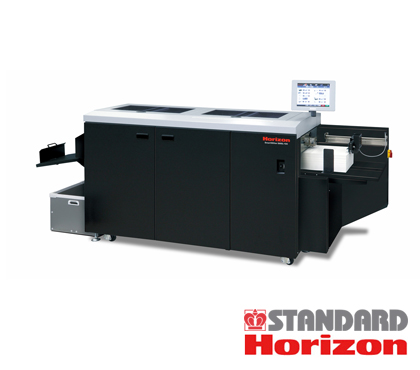 Standard Horizon SMSL-100 SmartSlitter - Slitter/Cutter/Creaser
The Standard Horizon SmartSlitter is an all-in-one smart sheet processing system that can slit, gutter cut, edge trim, cross-cut, perforate, and crease all in one pass.
Perforation and creasing can be performed in both horizontal and vertical directions in the same pass. Skip perforation feature can produce T- and L-perfs ideal for coupons, tickets, and business reply cards.
The system can deliver multiple up greeting cards with or without creasing, table tents, invitations, and more with both matrix and rotary creasing. For accordion fold applications or perfect bound books, up and down creasing can also be performed in one pass. Standard size business cards can be printed 21-up on a sheet and processed to a receding stacker for easy handling.
Print mark registration adjusts for digital print image shift from sheet to sheet. The color touch screen features a simple user interface for easy operation including job set-up via barcode.
Video

Features
Impact Creasing Section
The creasing lines and perforating lines are made in the width direction. Up and down creasing can be selected from the touch screen, depending on fold direction. Perforation can be performed by using the PRF-36 perforation tool. Partial perforation can be also performed by cutting the perforation blade to the desired length.
Rotary Perforate / Rotary Creasing Section
Creasing lines or perforating lines can be made in the length direction. Either the SMSL-PR rotary perforator cassette of the SMSL-CR rotary creaing cassette can be used according to the desired finish style. Skip perforation is available with the SMSL-PR cassette.
Slitting Section
Six rotary slitters accommodate bleed trim or gutter-cuts for 3-up output. These cassettes are easy to maintain.
Cutting Section
The cutting knives cut each sheet across the feed direction. Single cut or bleed/gutter cut is possible.

Specifications
Specifications
Sheet Size: from 8.27″ W x 8.27″ L up to 14.33″ W x 26.37″ L / Sheet Weight Range: 82 to 350 gsm / Feeder Pile Height: 5.9″ / Production Speed: Up to 55 sheets per minute
Dimensions
Size: 30.1" D x 98.2" W x 57.9" H / Weight: 1203 lbs. and up depending on options
Electrical
200-240 VAC 1-phase 60 Hz